The ExpertBail team was at it again earlier this week at the eCourts Conference in Las Vegas, Nevada. The team passed out several hundred of its new "I LOVE MY COURT" buttons and introduced itself to many key players in the court system. The conference was attended by a broad range of stakeholders in the criminal justice system including but not limited to Court Administrators, Clerks of Courts, Judges, Attorneys, Technology Officers, Probation Officers and Bailiffs.
As always, the ExpertBail team attended the conference and spent time talking with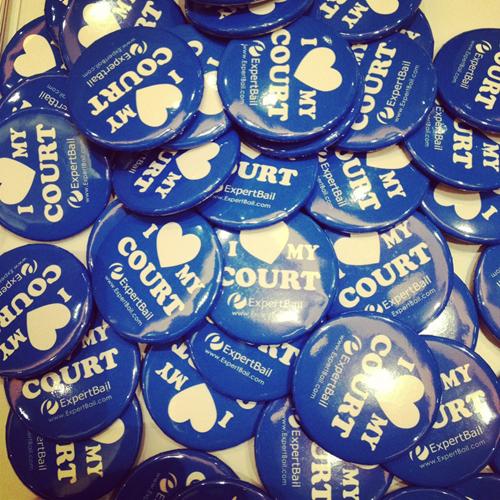 each of these stakeholders about their perceptions of the bail bond industry and its role in the criminal justice system. Additionally, the team spent time educating people on the realities of the bail industry and dispelling the many myths and stereotypes. As part of our discussions, we conducted a brief survey among attendees. Much like the previous surveys conducted by the ExpertBail Team at the National Sheriffs' Association Conference and the American Judges Association Conference, the results of this latest survey, show a strong understanding and support of commercial bail within the court system.
Below are the results of the survey.
91% said that commercial bail plays an important role in the criminal justice system (68% said very important)
50% described bail bondsman as professional, 32% as helpful, 21% as intimidating
76% felt that the bail bond industry was effective at getting defendants back to court (31% said extremely effective)
When comparing commercial bail to Pretrial Service Agencies in terms of speed of release, 49% felt that commercial bail was faster while only 5% felt that Pretrial Services Agencies were faster.
When comparing commercial bail to Pretrial Service Agencies in terms of effectiveness, 52% of people said that bail bondsman were more effective, while 14% said Pretrial was more effective (34% said both were the same)
Twenty-one states (including Puerto Rico) were represented in the survey results.