The Professional Bondsmen of Texas recently released an amazing story highlighting ExpertBail Agents, Ricky and Byanca Villarreal. The blog covers the small business owners' journey in faith, life, love and dedication not only to each other, but to their entire community. We encourage you to read this heartwarming story.
The bail industry across the state of Texas is made up of small business owners.  From teachers to former professional athletes to  entrepreneurs looking for their next challenge, many bondsmen have their own unique stories on how they ended up in the bail bond business.  In San Angelo, one such bond family is Ricky Villarreal, his wife Byanca and their son Isaiah.
Ricky is a simple, humble man.  He lives his life with passion for three things, his faith, his family, and his community.  These three things guide and drive his everyday activities, from his professional life to his personal life.  His foray into the professional world was through his own insurance company meeting the home and auto insurance needs of his community.  Ricky's faith led him to focus his business in a low-income Hispanic community where he thought he would be able to help more people who were underserved by traditional insurance brokers.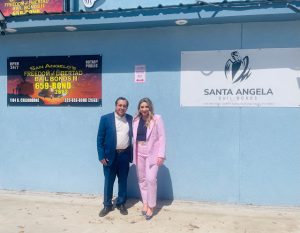 One day a customer asked him about someone needing a bail bond.  It was something he had never thought of or really understood.  But instead of just ignoring the issue, Ricky turned to his faith.  As Ricky describes it, he prayed about what God would have him do and he was sent a vision that he had the opportunity to continue to help people who were in a difficult situation and he had an opportunity to help people get back on their feet and put their lives back together. Ricky wanted to be a part of changing people's lives for the better and bail was his opportunity to do that.  From this point forward, Ricky new that helping people in the criminal justice system through bail was a part of his calling.  The next day he started down the path of opening up a bail agency which would be known as Freedom/Libertad Bail Bonds.
Continue reading the entire story on PBT's site: A Little Faith Goes a Long Way in Bail and in Life