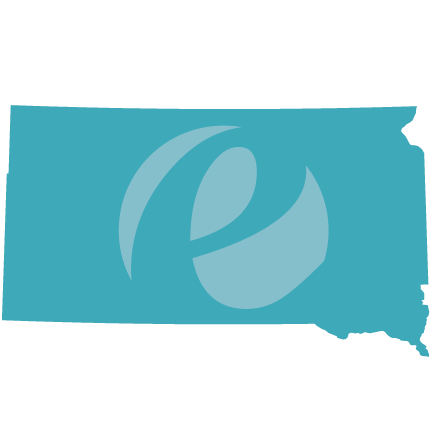 ExpertBail Bail Bonds in South Dakota
Thank your for visiting ExpertBail's South Dakota bail bonds page.  As you may already know, bail varies greatly from state to state. The information included below provides a general overview as well as some important specifics regarding bail in South Dakota. This includes everything from State Statutes to rules of operation. Once you have reviewed this information, if you still have any questions whatsoever about how bail operates in South Dakota or how to find an ExpertBail agent in South Dakota, please do not hesitate to fill out the contact form above or call us directly at 800.938.BAIL (2245).
---
South Dakota Bail Bond News
South Dakota Bail Bond Laws
1. Applicable State Statutes.
A) SOUTH DAKOTA CODIFIED LAWS TITLE 58. INSURANCE CHAPTER 58-22. BAIL BONDSPERSONS.
B) SOUTH DAKOTA CODIFIED LAWS TITLE 23A. CRIMINAL PROCEDURE CHAPTER 23A-43. (RULE 46) BAIL
2. Licensing Requirements for Agents
A) SOUTH DAKOTA CODIFIED LAWS TITLE 58. INSURANCE CHAPTER 58-22. BAIL BONDSPERSONS 58-22-1 Definition of terms.
"Bail bondsman" shall mean a surety bondsman, professional bondsman or a property bondsman as hereinafter defined.
"Runner" shall mean a person employed by a bail bondsman for the purpose of assisting the bail bondsman in presenting the defendant in court when required or to assist in apprehension and surrender of defendant to the court, or keeping defendant under necessary surveillance. This does not affect the right of a bail bondsman to hire counsel or to ask assistance of law enforcement officers.
B) 58-22-4 Unqualified and unlicensed person acting as bail bondsman or runner prohibited — Pledging of property by individual as security for bail bond permitted — Penalties for violation.
No person may act in the capacity of a bail bondsperson or runner or perform any of the functions, duties, or powers prescribed for bail bondsperson or runners under the provisions of this chapter unless that person is qualified and licensed as provided in this chapter. However, none of the provisions of this section prohibit any person, from pledging real or other property as security for a bail bond in judicial proceedings if that person does not receive, or is not promised, money or other things of value therefor. Acting in the capacity of a bail bondsperson or runner without being licensed is a Class 6 felony. Receipt of money or other things of value by any person not acting in the capacity of a bail bondsperson is a Class 2 misdemeanor.
C) 58-22-12 Application for license as runner — Affirmative showing of qualifications.
In addition to the other requirements prescribed in this chapter, an applicant for a license to serve as a runner shall affirmatively show:
(1) That the applicant is a natural person who has reached the age of twenty-one years;
(2) That the applicant is a citizen of the United States and has been a bona fide resident of this state for more than one year last past;
(3) That each appointing bail bondsperson is obligated to supervise the applicant's activities , and be responsible for the applicant's conduct in the bail bond business; and
(4) That the applicant has not been convicted of, nor has pled guilty or nolo contendere to, a felony or of any crime involving moral turpitude. The director of the Division of Insurance may waive the restriction relating to the conviction of, or plea of guilty or nolo contendere to, a felony or a crime involving moral turpitude if three years have elapsed since completion of the sentence imposed by the court in connection with the violation.
D) 58-22-13 Runner's license fee — Fingerprints and photograph of applicant.
Each runner's application shall be accompanied by a license fee of thirty dollars and an appointment fee of ten dollars for each bail bondsperson employing the applicant and shall be submitted to the director with each application for a license to serve as a runner, together with fingerprints and photograph. The employing bail bondsperson is responsible for submitting the application and appointment fee.
E) 58-22-14 Application for license or renewal — Forms furnished by direct or – Interrogatories propounded to applicant — Investigation of applicant's fitness.
The applicant for any license under this chapter shall apply in writing, on forms prepared and supplied by the director, and the director may propound any reasonable interrogatories to an applicant for a license under this chapter or on any renewal thereof, relating to the applicant's qualifications, residence, prospective place of business, and any other matters which, in the opinion of the director, are deemed necessary or expedient in order to protect the public and ascertain the qualifications of the applicant. The director may also conduct any reasonable inquiry or investigation the director sees fit, relative to the determination of the applicant's fitness to be licensed or to continue to be licensed including a criminal background check, and the applicant is responsible for any costs associated with a criminal background check as charged by the appropriate agency conducting and furnishing the background check. The applicant shall provide any necessary authorization requested by the director to facilitate an inquiry or investigation.
F) 58-22-19 Expiration of licenses.
All licenses issued shall expire annually on May first unless revoked or suspended prior thereto by the director, or upon notice served upon the director that the insurer or employer of any runner has canceled the licensee's authority to act for such insurer or employer.
G) 58-22-49 Written appointment required with application for runner's license.
The application for a runner's license shall be accompanied by a written appointment of the applicant as a runner by each licensed bail bondsperson employing the applicant.
H) See also:
58-22-22 Suspension of license — Investigation by director — Notice and charges — Failure to answer or deny charges, revocation of license.
58-22-23 Denial of charges of unlawful conduct — Hearing by director, notice of time and place, rights of parties — Suspension or revocation of license.
58-22-27 Annual list of runners appointed by bail bondsman — Notice of subsequent appointments to director.
58-22-28 Termination of appointment of runner — Notice filed with director — Notice to runner — Information privileged.
3. Notice of Forfeiture.
The South Dakota statutes are very limited in regard to provisions governing bail forfeiture, particularly in the areas of notice and time frame between declaration and actual forfeiture.
A) SOUTH DAKOTA CODIFIED LAWS TITLE 23A. CRIMINAL PROCEDURE CHAPTER 23A-43. (RULE 46) BAIL 23A-43-21 (Rule 46 (e) (1)) Forfeiture of bond and revocation of release on breach of condition — Warrant for arrest.
Upon a showing that there has been a material breach of a condition of release without good cause, the court shall declare a forfeiture of the bond, if any, and shall enter an order revoking the conditions of release. If the defendant is not in custody, the court shall direct the clerk to issue a warrant for the defendant's arrest.
4. Allotted Time between Forfeiture Declaration and Payment Due Date
The South Dakota statutes do not currently contain any specific provisions regarding allotted time between forfeiture declaration and payment due.
5. Forfeiture Defenses
When the condition of a bond has been satisfied or the forfeiture of a bond has been set aside or remitted, a court shall exonerate the obligors and release any bail. A surety may be exonerated by a deposit of cash in the amount of the bond or by a timely surrender of the defendant into custody.
6. Remission
A) SOUTH DAKOTA CODIFIED LAWS TITLE 23A. CRIMINAL PROCEDURE CHAPTER 23A-43. (RULE 46) BAIL 23A-43-22 (Rule 46 (e) (2)) Setting aside forfeiture of bail.
A court may direct that a forfeiture be set aside, upon such conditions as it may impose, if it appears that justice does not require enforcement of the forfeiture.
7. Bail Agent's Arrest Authority
A) SOUTH DAKOTA CODIFIED LAWS TITLE 23A. CRIMINAL PROCEDURE CHAPTER 23A-43. (RULE 46) BAIL 23A-43-29 Arrest of defendant by surety on violation of conditions — Recommitment and discharge of surety.
Any defendant who is released on the execution of an appearance bail bond with one or more sureties may, if he violates the conditions of his release, in vacation, be arrested by his surety, delivered to a law enforcement officer, and brought before any committing magistrate. At the request of such surety, the committing magistrate shall recommit the defendant to the custody of the law enforcement officer, and endorse on the recognizance, or certified copy thereof, the discharge and exoneretur of the surety. The person so committed shall be held in custody until discharged by due course of law.
8. Other Noteworthy Provisions
A) SOUTH DAKOTA CODIFIED LAWS TITLE 58. INSURANCE CHAPTER 58-22. BAIL BONDSPERSONS 58-22-3 Persons disqualified as bail bondsmen — Violation as felony.
The following persons or classes may not be bail bondspersons or runners and may not directly or indirectly receive any benefits from the execution of any bail bond: jailers, police officers, committing magistrates, magistrate court judges, sheriffs, deputy sheriffs, and constables, any person having the power to arrest or having anything to do with the control of federal, state, county, or municipal prisoners. Violation of this section is a Class 6 felony.
B) 58-22-51 Out-of-state bail bondsperson — Notification of activities — Limitations on activities — License required.
Any out-of-state bail bondsperson or runner entering this state shall notify all local law enforcement agencies in the area where the bail bondsperson or runner intends to conduct runner activities as defined in subdivision 58-22-1 (5), including, at a minimum, the office of the county's sheriff, and also, if operating within a municipality, the office of the municipal police as to the bail bondperson's or runner's presence and intended activity and present evidence of out-of-state licensure. No out-of-state bail bondsperson or runner who is unlicensed in that person's state of domicile may conduct any runner activities in this state. No bail bond activities as prescribed by this chapter may be conducted by any person in this state unless that person is licensed in this state as a bail bondsperson as prescribed by this chapter. Violation of this section is a Class 6 felony.
C) 58-22-52 List of runners submitted to director — Fee.
Each bail bondsperson shall, on or before May first of each year, furnish to the director a list of all runners appointed, accompanied by a ten dollar reappointment fee for each runner. Each bail bondsperson who, subsequent to the filing of this list, appoints additional persons as runners shall comply with the requirements of this section.
D) 58-22-33 Giving or promising anything of value to public officials to secure settlement, remission or reduction as felony.
No bail bondsperson or runner may pay a fee or rebate or give or promise anything of value to a jailer, police, peace officer, committing magistrate, or any other person who has power to arrest or hold in custody; or to any public official or public employee in order to secure a settlement, compromise, remission, or reduction of the amount of any bail bond or the forfeiture thereof. Violation of this section is a Class 6 felony.
9. Noteworthy State Appellate Decisions
A) State v. Shadbolt
590 N.W.2d 231, 1999 SD 15
S.D.
Feb 03, 1999
Defendant (Shadbolt) was self-employed as a private investigator. One of the services he performed as an investigator was to contract with bail bondsman in the Sioux Falls area to help locate and apprehend people who were out on bond and failed to appear in court. However, Shadbolt was not licensed as a bail bondsman or "runner" to perform such services.
Defendant was convicted in the Circuit Court, Second Judicial Circuit, Minnehaha County, William J. Srstka, Jr., J., of aggravated assault, and he appealed. The Supreme Court, Amundson, J., held that defendant was not entitled to instruction on authority of bail bondsman to use reasonable force to effect arrest. Affirmed.
B) State v. Krage
404 N.W.2d 524
S.D.
Apr 29, 1987
Bond obligors filed motion to set aside bond forfeiture. The Circuit Court, Fifth Judicial Circuit, Brown County, Eugene E. Dobberpuhl, J., ordered that portion of bond representing deposit for dismissed count should be returned but denied motion for portion of bond representing count under which defendant was convicted. Obligors appealed. The Supreme Court, Morgan, J., held that: (1) the Supreme Court had jurisdiction to hear the appeal; (2) issue concerning whether obligors' motion was untimely was not preserved for appeal; (3) all requirements for notice of hearing on petition for default judgment under statutes governing bond forfeitures were waived by actions of the obligors; and (4) it was not clear abuse of discretion to refuse to set aside entire forfeiture. Affirmed and remanded.
C) State v. Casey
44 S.D. 311, 183 N.W. 971, 15 A.L.R. 1521
S.D.
Jul 16, 1921
Appeal from Circuit Court, Lyman County; William Williamson, Judge. Action by the State against Wm. Casey and another to recover the penalty of the bond given by defendants as sureties conditioned on the appearance of John Dillon for trial on a criminal charge. From an order sustaining plaintiff's demurrer to defendants' answer, defendants appeal. Affirmed.
10. Bounty Hunter Provisions
At this time, there appear to be no specific regulations for "Bounty Hunters" in the South Dakota statutes. See 9.A. above.

Need immediate help with a bail bond?
Send a message below or call us now at (800) 938-2245.
Some popular cities where we serve South Dakota bail bonds are: Aberdeen, Deadwood, Mitchell, Rapid City, Sioux Falls, Spearfish