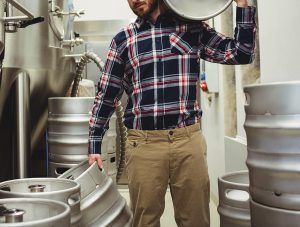 Los Angeles brewery owner, Ryan Cavender Wicks, 39, was charged with DUI murder for his role in a fatal crash. On Monday, June 6, his bail bond was revoked by a San Bernardino Superior Court Judge
Wicks of Rancho Cucamonga, co-owner of the Wicks Brewery in Riverside, posted a $1 million bond after his arrest in March. Wicks is accused of DUI murder after a crash in the northbound lanes of the 15 Freeway on March 31 that took the life of a 52-year-old Oceanside man.
Jacquelyn Rodriguez, spokesperson for the District Attorney's office, said that prosecutors told the court based on prior DUI convictions and knowledge that drinking while under the influence of alcohol was dangerous and "the defendant is a danger to the community… yet he (Wicks) still proceeded to drink throughout the day and drive at speeds that were highly dangerous and indicated a high disregard for human life," Rodriguez wrote. Apparently the judge agreed and revoked his bond.
Read the original article here: Judge Revokes Bail for Brewery Owner Charged with DUI Murder