When most people think of domestic violence, the last thing they would ever put with that thought is a bail bond agent. Believe it or not, the two are very closely connected and that connection is a good one.
Very few people understand the world of bail bonds and the essential role that bail bondsman play in the criminal justice system. Instead most people fall into the trap of the negative stereotype that Hollywood and the media have perpetuated through movies and reality television. While not the best image for the bail industry, the good news is that the reality of bail is nothing at all like how it is portrayed on television. Bail agents are just normal people like the rest of us. They are small family business owners that go to work every day and do the best they can. They also are committed to giving back to their communities in ways that most people don't. Just check out the many stories that we have uncovered among our network of ExpertBail Agents where bail bondsmen have done everything from raising money for MS to starting non-profits of their own. Also, watch the recent story from Richmond, Virginia yesterday, where ExpertBail Agent Charles Johnson was interviewed on the morning news talking about his 6th Annual Christmas Eve Toy Drive that distributes thousands of toys to children and families in need. And yes…he is a bail bond agent.
As mentioned earlier, one connection that bail industry has that most people don't understand is the role that bail bond agents play with crime victims. By ensuring that people show up for court, bail agents in essence are ensuring that the crime victim is getting a chance at justice. If that defendant does not show up, than the victim is re-victimized and justice is never served. Last year, through the ExpertBail network, over 360,000 victims got a chance at justice.
In addition to the role that bail agents play in ensuring justice, the ExpertBail Network is also trying to provide resources to victims when they need them. That is why they have created a special "Victim Advocacy" section of the ExpertBail website that links to the National Center for Victims of Crime's victim advocate database. Now consumers can find a victim advocate anywhere in the country they need to at any time.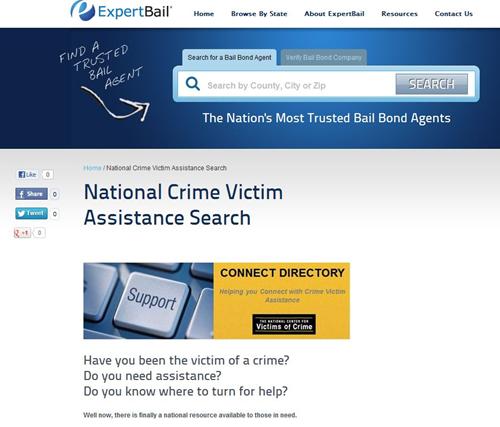 Domestic violence is an issue that touches everyone and ExpertBail is committed to helping those in need. Check out the recent television interview with ExpertBail Agent Charles Johnson of Johnson's Bonding in Richmond, Virginia as he talks about the rise in domestic violence during the holidays. Click on the link below.
WRIC TV 8 Richmond – Domestic Violence Arrests Increase During the Holidays