ExpertBail Talks Bail Bonds on the Radio in Anchorage, Alaska
June 21, 2013

ExpertBail Shares Bail Bond Industry Insights On Top Consumer Affairs Website
July 1, 2013
The ExpertBail Team was in Charlotte, North Carolina, this week at the National Sheriffs' Association Conference. As in previous years, the team conducted a brief bail bond industry survey amongst the attending sheriffs. The questions ranged from the industry's importance to general attributes that they would use to describe the industry. The results were overwhelmingly in favor of the bail bond industry. Below are some key findings from the survey.
100% of sheriffs who participated in the survey said that commercial bail plays an "Important" role in the criminal justice system.
76% said that commercial bail plays a "Very Important" role in the criminal justice system.
83% said that commercial bail is the "Most Effective" form of release that ensures a defendant's appearance in court (13% felt that release through a pretrial services agency was the most effective method)
The number one attribute used to describe commercial bail agents was "Professional" (53%)
Other attributes selected include: Effective (49%) and Helpful (25%)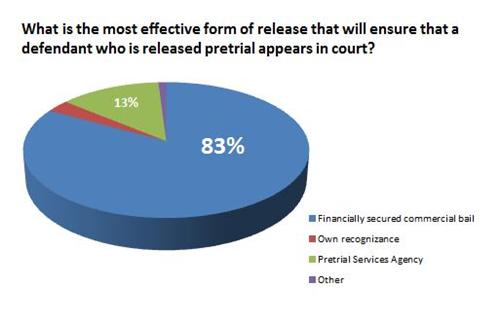 According ExpertBail's Managing Director, Eric Granof, the survey results were supported with a multitude of extremely positive and supportive conversations with Sheriffs all over the country during the entire conference.