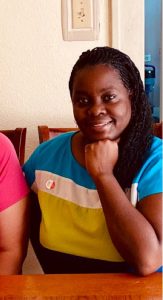 Have you ever had a friend who you thought you knew really well, and then you found out something that you didn't know about them, and you realized that your really didn't know that person very much at all? Well if that sounds familiar you are going to like this making a difference story.
Shanette Mitchell is a Texas bail agent. She operates her bail agency, Mitchell Bail Bond Services, out of San Antonio, Texas. Every day she wakes up and goes to work to help families get their loved ones out of jail and make sure they show up for court. In other words, Shanette is just like any other bail bondsman. Or is she?
About 5 years ago, Shanette started a non-profit called the H.O.M.E Intervention Program. This program was designed specifically to address many of the issues facing her bail customers. These issues included lack of housing, lack of jobs, lack of mentoring and lack of educational opportunities. She believed that if people had easy access to all four of these items, that they could be successful. So, she went about finding a way to provide these things to as many people as she could. From the 6 bedroom home that she purchased and uses as a safe-house for at risk women and women with children, to her jobs program that identifies and works with companies willing to hire people with criminal records, to her mentoring program that helps young 18-25 year old men connect with older role models and influencers. Shanette is not just helping people but she is truly changing their lives.
Over the past several years, Shanette has helped thousands of people get back on their feet and restart their lives in a positive and productive way. One might ask why does she do it? Or what does she get out of it in return? To us, the answers to those questions are much less important than the fact that she is out their helping people each and every day. So, thank you Shanette. Thank you for all you do for your community and for the customers you serve. And thank you for being an ExpertBail Agent.
Check it out! ExpertBail Agent, Shanette Mitchell, was featured in an interview for the Dr. Doug and Friends podcast discussing her
H.O.M.E. Intervention Services
.
---