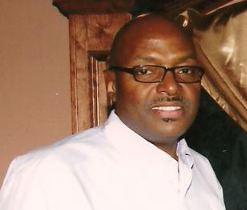 Houston, Texas is the land of big hats, big cattle and big personalities. Well it is also the home to big bail agents like Kelvin Hampton of A-Better Bail Bonds of Houston, Texas. Kelvin is considered "BIG" by most not because he stands well over 6 feet 4, but rather because of the BIG impact he has in his community. Kelvin's family has been in the bail bond business in the city for over 22 years. Between his father, two brothers and countless other family members, A-Better Bail Bonds is truly a family run business.
But family to the Hamptons runs deeper than just blood. It encompasses all 30 employees of the company as well as their families. This is something that Kelvin's father is most proud of over the years...that his business employs and takes care of 30 families in the community. It's a big responsibility, but then again it is Texas, and everything in Texas is big.
In addition to being a licensed bail agent, Kelvin is also an ordained minister. According to Kelvin, God has put him in a place to help people in a time when they really need someone...and for that he feels blessed. And then of course there are sports. It's hard to talk about the Hamptons without mentioning this key component of their lives. Kelvin's brother Rodney, played over five years in the NFL for the New York Giants, winning numerous accolades as well as a Super Bowl. Kelvin and his family also understand the value and importance of athletics in the lives of young people and spend a lot of time working with kids in the community organizing and participating in youth sports programs.
The team at ExpertBail is very proud to call Kelvin and his family "trusted members of the ExpertBail Network" and we urge them continue to be BIG in every way they can.
---