November 23, 2011
The Nation's First and Only Bail Bond Branded Network Provides Thanksgiving Meals to over 500 Families in Fresno.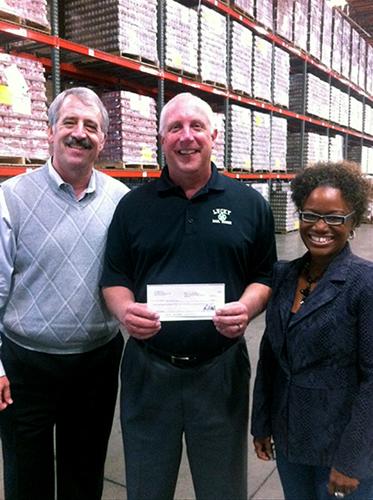 As we approach the Holiday Season and look back on what has been a difficult year from many, it is hard to ignore the desire to reach out and help others. That being said, ExpertBail, on behalf of its nationwide family of bail bond agents and over 11,000 ExpertBail Facebook fans, will be donating close to 500 Thanksgiving meals to the Community Food Bank in Fresno in time for Thanksgiving. "We are extremely proud to be able to provide assistance to so many in need this holiday season, says Eric Granof, Chief Marketing Officer for the AIA Family of Companies and the ExpertBail Network. "We would like to thank all of our bail bond agents who participated in the online promotion as well as our Facebook fans who helped us reach our goal."
ExpertBail is the nation's first and largest branded network of bail bond agents. With over 5,000 verified agents across the country, ExpertBail is committed to giving consumers a trusted bail bond resource to turn to no matter where they are in the country. They are accomplishing this by telling the "real" story of bail agents and challenging the negative stereotypes being portrayed by reality television and the media. "The reality of the bail bond industry is that bail agents are not the rough characters portrayed on television and in the movies," says Granof. "They are hard working small business owners that are actively participating in their local communities in a positive way every day. While we are extremely proud of our agent's participation in this charitable promotion, we are even more proud of the little things they do to make their communities a better place to live and raise a family."
The Community Food Bank in Fresno was selected from a list of local food banks around the country that were voted on by consumers. Fresno won the contest by receiving the most votes from Facebook fans. ExpertBail Agent, Barry Pearlstein of Lucky Bail Bonds in Fresno, California, delivered the check to the Community Food Bank in Fresno yesterday morning.
About ExpertBail
ExpertBail is the bail bond industry's first true national bail bond network. Comprised of the most experienced and highest quality bail agents in the industry, ExpertBail helps consumers reduce the clutter in the bail marketplace and directs them towards a trusted, proven and experienced bail agent in a simple and transparent way. Expert Bail is backed by AIA, the oldest and largest family of bail bond insurance companies. With over 150 years of stability, trust and knowledge behind every bond written in the ExpertBail Network, our focus is on the consumer and helping them through a difficult time. The mission of ExpertBail and its network of agents is not only to meet the expectations of our customers, but to exceed them substantially.
About AIA
The AIA family of companies has been partnering with agents across the country for over a century. Formed in 2003 as an alliance of the surety bail industry's leading companies Allegheny Casualty, International Fidelity and Associated Bond, AIA utilizes a unique "service-focused" approach to management that provides its family of agents with the knowledge, tools and commitment they need to grow their business and succeed. AIA has become the overwhelming industry leader in agent service, national coverage, bail written and number of agents.