Does social media make us arrogant or stupid?  Or maybe, it makes us a little bit of both.  That is the topic of today's bail bond blog post.  Whatever you answered, arrogant or stupid, this next story out of Boca Raton, Florida will have you shaking your head and seriously wondering about the youth in this country.
This past week, a young man was pulled over by Palm Beach County Sheriff Deputies.  The teen gave the police permission to search his car because according to him, he didn't have anything to hide.  Well, the teen should have thought a little harder about that because he actually did have something to hide. Police found marijuana, Xanax bars, and assorted drug paraphernalia. Oooops!
The young man was booked into the Palm Beach County Jail on a $60,000 bail bond for possession with Intent to sell, possession of paraphernalia and 19 counts of possession of a controlled substance.  In an examination of the young man's Twitter account, the authorities found multiple drug related tweets.  Either this kid didn't remember what he had in his trunk or what he had posted on Twitter, or he just didn't care.  Either way, it looks like he will hopefully think twice next time…or will he.  Check out some of the Tweets below along with the original article.
Original article: Evan Steward: Boca teen faces drug charges following 'weeeeeed' boast on Twitter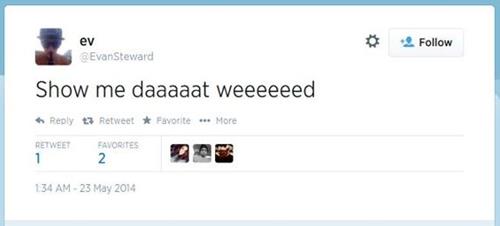 Written by: Eric Granof
Read another bail bond blog post: Lobster Crimes: Busted for Grabbing Some Tail
Learn more about the bail bond industry? How does the bail bond process work