Have you ever forgot to turn off you cell phone and had it go off during a movie?  Putting aside the rude comments and mean stares from fellow movie goers, it can be a pretty humiliating and embarrassing situation.  No matter how many warnings and signs that people can put up, sometimes we are just human and forget to turn off our phone.  Is it the worst possible thing in the world that can happen to us or the other people in the theater….no, probably not?  However, for one man in the Welikada Prison in Sri Lanka, getting a cell phone call with his ringer on happened at the worst possible time.
A New York news outlet reported a story today about a 58 year old prisoner at the Welikada Jail in Colombo, Sri Lanka, was busted for getting a cell phone call.  The interesting part of the story is that the guards heard the phone ringing but could not find it on the man's person…however, they did eventually find it when they looked "in" the man's person….and yes we are talking about the place you think we are.
Apparently the man was smuggling the phone into the prison in his backside.  But the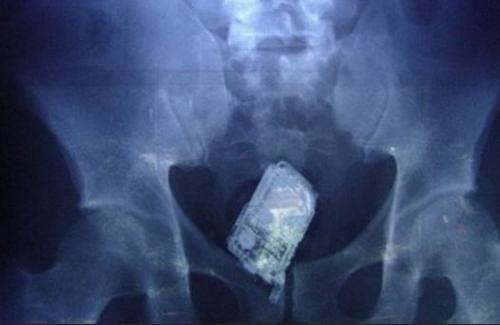 jig was up as soon as his caboose started ringing.  They eventually put the man through an x-ray machine and found the cell phone in a place that the sun never shines.  Either this man was trying to put his phone in his back pocket and has severely bad aim, or he was up to no good and smuggling the phone into the jail.  Either way, in the end (no pun intended…okay, just a little one), the plot was foiled.  Read the original story below.
Original article: Prisoner smuggles cell phone in rectum, gets busted after receiving 'booty call'