Is it just us or does it seem like whenever you pick up a paper nowadays there is a story about an Amish person getting put in jail and needing a bail bond? Well yesterday was no different.
In Millersburg Ohio, five men suspected of forcefully cutting the beards of fellow Amish were arraigned and released on $50,000 bail bonds. The best part….the last name of two of the accused Amish men is Mullet…wow…the Farrelly brothers couldn't have come up with a better set of characters than this. The full story is below:
Five Ohio men arraigned on charges in beard shearing
Five members from a sect that was excommunicated by the Amish community were arraigned this morning on charges of kidnapping and aggravated burglary after authorities said they ganged up on an Amish man and chopped off his beard in Ohio, an assault that's considered sacrilegious for the group.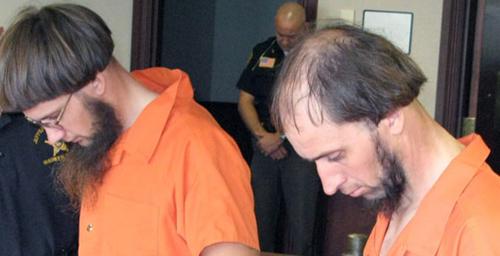 Lester and Johnny Mullet. AP / Steubenville Herald Star-Mark Law
Charged are Daniel Mullet, 37, Johnny Mullet, 38, and Levi Miller, 53, of Bergholz, Lester S. Mullet, 26, of Hammondsville and Eli Miller, 32, address not known.
The men were arraigned this morning at Holmes County Municipal Court in Millersburg.
The five were released on bail this afternoon after they were arraigned.
Prosecuting attorney Steve Knowling said Samuel Mullet, believed to be the leader of the breakaway sect that the men belonged to, bailed all of the men out this. All were being held on $50,000 bond, cash or surety.
The five are charged in an Oct. 4 attack in Holmes County, when police said a gang of men broke into a 74-year-old man's house as he lay in bed with his wife. They held him to a chair, shearing his beard with scissors and clippers.
Poice are investigating similar incidents in the area. A grand jury is considering charges in an attack on Myron Miller in Mechanicstown, Carroll County, also on Oct. 4. Mr. Miller is bishop for the Mechanicstown Amish church. And charges may be filed against Levi Miller in a Sept. 24 attack on his brother-in-law.
Authorities say the group are members of a religious sect that has been excommunicated by the Amish and is headed by Samuel Mullet, 66, the father of Johnny and Lester Mullet.
Original article: Five Ohio men arraigned on charges in beard shearing
By Moriah Balingit, Pittsburgh Post-Gazette