Gloria Mitchell helps those, who at any given moment, have trouble helping themselves.
She's a second-generation bail bonds agent, ready and willing to assist the accused.
She is also a mother, grandmother and philanthropist who helps teenage single mothers through the nonprofit organization she founded more than five years ago, TEA For You, Teen Mothers Excelling through Adversities,
"It teaches the girls their life is not over," said Mitchell, who owns Gloria Mitchell Bail Bonds in Pomona. "It helps them make better choices and teaches them that attending school, keeping up their GPA and having respect for themselves is a way to success."
Through TEA for You, Mitchell, a 51-year-old Upland resident, works closely with teachers and students from 15 Cal-SAFE Schools to provide resources and support for pregnant teens and teen mothers and fathers.
Each May, TEA for You hosts a luncheon for the girls where they meet, talk with and share stories with women who were also teen mothers and learn how these women have become successful professionals.
"I see bright futures in these girls, and with the help of Soroptimist Scholarship Program and support from the surrounding businesses, we can encourage them to stay in school and continue on to higher education," said Mitchell, also a Soroptimist.
"Ultimately we want them to use their adversities as stepping stones to reach their goals. By building strength and confidence and never giving up they will improve their lives, and the lives of their children."
Mitchell saw the need for such a program through personal experience. Her oldest daughter Candice became pregnant while in high school.
"It was a devastating time," she said. "We kept asking ourselves, `what are we going to do?' It gave me an insight on what really happens to families."
Well-meaning friends and family members kept offering unsolicited, unwanted and hurtful advice.
"I heard things I never thought I would, from those I never would have thought would say them," she said. "They said `she ruined her life' and suggested adoption and abortion. School officials told me I had to remove her from school. That shattered me."
Candice started attending a program for pregnant minors with about eight other girls.
Mitchell stayed involved with her daughter, attended the program's meetings and events.
"No other moms came," Mitchell said. "Her classmates told my daughter, `You're so lucky.' I did some soul-searching on how I could make a difference."
Mitchell went to her daughter's school district and spoke to officials, explaining her ideas for a program that would empower pregnant minors.
The program runs from January through May and awards 25 scholarships from $200 to $1,000.
Mitchell's grandson Anthony is 8, and her daughter Candice is a cosmetologist and licensed bail agent.
An everyday effort
Gloria Mitchell's work with pregnant minors is just a continuation of the work she does every day. But it didn't start out that way.
"Being a bail bonds agent, like my mother, wasn't the profession I wanted," said Mitchell, who wanted to be a therapist or psychologist. "I used to ask my mom, `how can you work with these kinds of people?' That's hard to admit. Now, I feel awful I ever thought that way. My mother was such a kind woman, she explained they are just people like you and me that find themselves in a bad situation."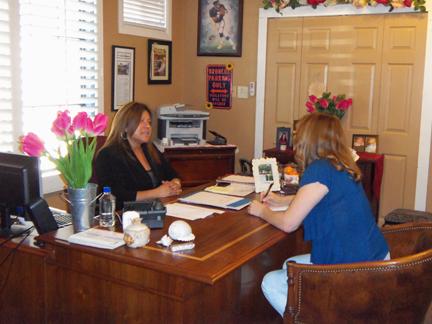 Mitchell grew up with parents who always preached the importance of giving back – then practiced what they preached.
"My mom was always helping at-risk teens and my dad worked three jobs to keep me in private school," she said. "I was so blessed."
Mitchell took business classes in college and before she could finish, one of the companies conducting mock interviews on campus hired her.
She worked in the corporate world for more than 10 years when she started to help her mother transfer her paper files onto computer.
She learned that the mechanics of bail bonds were pretty simple, the clients and their stories were much more complex.
"That was when I first started to get intrigued with the business and my perception started to change," she said. "I started to understand that there are two sides to every story."
Mitchell saw that through bail bonds she could really make a difference in someone's life at a time when they really needed someone. In 1995, she bought the business.
"It was a big decision, I didn't know if I could do it," she admitted.
However, with the help and support of her husband, Robert Mitchell, and her family she took on the challenge and developed her motto, "you never know."
Through word of mouth, personal recommendations and the referral site www.expertbail.com, her business has thrived.
Mitchell's mother, Mary Alice Nodal, was a true pioneer, paving the way for other women who wanted to make a living as bail bonds agents.
Nodal passed that spirit down to her daughter and granddaughters as Mitchell's daughters, Candice and Brandee, have joined their mother in the business.
"Today there are more female bail bonds agents than men, though I believe more men still own the agencies," she said.
A personal touch
Mitchell has created in her office a homelike atmosphere, having decorated it with household furnishings, stuffed animals, sports memorabilia and angels, reflecting her inner spirit.
"I want a place where clients can come in, relax and feel comfortable," she said.
Mitchell's gentle demeanor also comes through over the phone.
San Bernardino resident Rebecca Jaurigue, felt at ease as soon as Mitchell answered her call.
"I was so desperate, I didn't know what to do, where to go or who to call," said Jaurigue, after she learned her pregnant daughter had been arrested on suspicion of spousal battery. "Just the thought of her being in jail in that negative environment was driving me crazy."
Jaurigue just wanted her daughter home and called a local bail bond agent first.
"I didn't like him at all, he was just all about the money," she said. "Then someone, I don't even remember who, recommended Gloria. As soon as I heard her voice I felt comfort. She didn't know me, but she trusted me. I was in Riverside and within four hours she had my daughter out."
Having no control of the situation or contact with her daughter gave Jaurigue a helpless feeling.
"So many people find themselves in a situation that they never thought they'd ever be in and don't know where to turn," Mitchell said. "They call and ask me, `can you help?' I can and start gathering information like where the arrest took place, booking number, birth date and what facility. Processing takes between two and four hours and a lot of times I can have them out not too long after that."
Mitchell explained she mostly deals with a friend or family member of the accused, called an indemnitor.
The indemnitor is a person who puts up either cash, property or something of equal or greater value to the bail amount, who guarantees to Mitchell the accused will appear in court.
"Basically, a person is arrested and depending on what they're charged with, the judge may allow their release in exchange for a certain sum of money, or bail," she explained. "The money is assurance that they will show up for their court date. Most people don't have that kind of money, which can range from $5,000 to $1 million or more. That's when they call a bail bonds agent."
Clients usually pay about 10 percent of the bail amount to the agent, and the agent secures the full amount to the court.
If the client fulfills his legal obligations, the court rescinds the bond.
"I'm the one who makes the guarantee to the court," she said. "If they don't appear, the judge will forfeit bail, the court sends me notice and I call the indemnitor. If I can't locate the indemnitor and if all else fails, I can work with a fugitive recovery agent."
Mitchell shared that most situations can be resolved without a recovery agent, commonly known as bounty hunters.
"There are excusable reasons," she said. "I can work with people on all levels if there's communication and honesty."
Mitchell said that it's her faith that keeps her going – in God and in people.
"Everyone who walks up my path has come to me for a reason," she said. "They need help with a situation they never thought they'd be in, and I'm here for them, because – you never know."
Original article: Bail bonds agent lends personal touch
By Diana Sholley, Staff Writer, Contra Costa Times