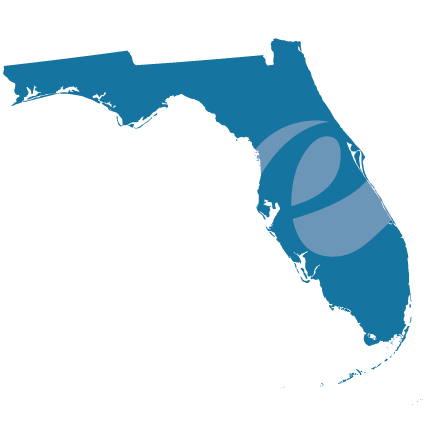 ExpertBail Bail Bonds in Florida
Thank your for visiting ExpertBail's Florida bail bonds page.  As you may already know, bail varies greatly from state to state. The information included below provides a general overview as well as some important specifics regarding bail in Florida. This includes everything from State Statutes to rules of operation. Once you have reviewed this information, if you still have any questions whatsoever about how bail operates in Florida or how to find an ExpertBail agent in Florida, please do not hesitate to fill out the contact form above or call us directly at 800.938.BAIL (2245).
---
1. Applicable State Statutes.
Florida Statutes (FS) Chapter 648, Chapter 903
Florida Administrative Code (AR), Chapter 4-221
Governance by Local Rule. Does not appear to allow local jurisdictions to modify statutes or regulations.
2. Licensing Requirements for Agents.
In order to undertake bail in Florida, a person must have a license [AR 4-221.001, FS 648.26, 648.30]. Florida law specifies two kinds of bail bond agent:
a limited surety agent, defined as a person appointed by an insurer to execute bail bonds [FS 648.25(5)],
a professional bail bond agent, defined as a person who pledges US currency as security for a bail bond [FS 648.25(7)].
A. Qualifications for License
Bail bond agents must comply with the following for licensure.
Have complied with the provisions of 648.355 and obtained a temporary license [FS 648.34(2)]
Be 18 years old and hold a high school diploma or its equivalent [FS 648.34(2)(a)]
Be a United States citizen or legal alien with work authorization [FS 648.34(2)(b)]
Be a resident of Florida [FS 648.34(2)(b)]
Place of business must be located in a Florida county where the records will be maintained and open during reasonable business hours [FS 648.34(2)(c)]
Must be vouched for and recommended by three reputable citizens who are residents of the county where the applicant proposes to engage in bail bond business [FS 648.34(2)(d)]
Be of good character with no convictions on a felony, crime of moral turpitude, or crime punishable by 1 year or more [FS 648.34(2)(e)]
Passage of required examinations [FS 648.34(2)(f)]
Furnish photo and fingerprints with application [FS 648.34(4)]
Payment for required credit and background checks [FS 648.34(3)]
Completion of 14 hours of continuing education courses every two years [FS 648.385]
Professional bail bond agents have the same requirements as in FS 648.34, but in addition shall:
File a detailed financial statement under oath with each application for licensure or renewal [FS 648.35(1)]
File the rating plan proposed for use in writing bail bonds. Such rating plan must be approved by the office prior to issuance of the license. [FS 648.35(2)]
The regulatory body is the Department of Financial Services [FS 648.26]
3. Notice of Forfeiture [PC 1305-1308].
Conditions of forfeiture
Breach of the conditions of the bond and/or failure of defendant to appear [FS 903.26(2)(b)],
Clerk of the court must mail a notice of forfeiture to surety agent and surety company within 5 days [FS 903.26(2)(a)].
4. Allotted Time Between Forfeiture Declaration and Payment Due Date.
Forfeitures must be paid within 60 days of date of notice [FS 903.26(2)(a)]
If forfeiture is not paid within 60 days, the clerk of the court shall within 10 days furnish the Department of Financial Services and the surety with a certification of the judgment docket [FS 903.27(1)],
If judgment is not paid within 35 days, the clerk informs the Department of Financial Services and sheriff of jurisdiction that the judgment is unsatisfied [FS 903.27(1)]
Surety bail bonds may not be executed by a bail bond agent against whom a judgment has been entered that has remained unpaid for 35 days, and may not be executed for a company against whom a judgment has been entered that has remained unpaid for 50 days. [FS 903.27(3)]
No sheriff can approve surety bail bonds from subject agent or company until such a judgment has been paid [FS 903.27(3)]
The surety/agent has 35 days to file a motion to set aside a judgment or stay. To make the motion, the surety must pay the clerk the amount of the judgment, which will be put into escrow until the court rules on the motion to set aside judgment. [FS 903.27(5)].
Tolling: If the defendant is returned to the court of jurisdiction, whenever a motion to set aside is filed, the operation of this section is tolled until the court makes its disposition [FS 903.27(1)]
 
5. Forfeiture Defenses.
Unless the indictment is filed within 6 months of the arrest [FS 903.26(1)] and the clerk of the court gives 72 hours notice (exclusive of weekends and holidays) to surety of time of the defendant's required appearance [FS 903.26(1)(b)], the bond cannot be forfeited
Impossible for defendant to appear because of circumstance beyond his control [FS 903.26(5)(a)].  Potential adverse economic consequences shall not be considered as constituting a group for such a determination.
ExpertBail Jail Report Button
Congratulations, you found the $10 Jail Report button! Now, be the first to copy the url and post it on our Facebook page to win.
Defendant was adjudicated insane and confined in an institution/hospital, or was in jail/prison. [FS 903.26(5)(b)]
Surrender or arrest of the defendant if the delay has not thwarted the proper prosecution of the defendant. [FS 903.26(5)(c)]
If defendant is arrested and returned to court of jurisdiction prior to judgment [FS 903.26(8)].  However, if the surety agent fails to pay the costs and expenses incurred in returning the defendant to the county of jurisdiction, the clerk shall not discharge the forfeiture of the bond. If the surety agent and the state attorney fail to agree on the amount of said costs, then the court shall determine them.
6. Remission.
[FS 903.28] Remission can be granted up to two years subject to the following:
If defendant is returned with 90 days, remission may be up to 100% [FS 903.28(2)], within 180 days, remission up to 95% [FS 903.28(3)], within 270 days, up to 90% [FS 903.28(4)], within 1 year, 85% [FS 903.28(5)], within 2 years, 50% [FS 903.28(6)].
The court shall direct remission of up to the above amounts if the surety apprehended and surrendered the defendant or if the apprehension or surrender of the defendant was substantially procured or caused by the surety, or the surety has substantially attempted to procure or cause the apprehension or surrender of the defendant, and the delay has not thwarted the prosecution of the defendant. [FS 903.28]
Remission shall also be granted when the surety did not substantially participate or attempt to participate in the apprehension or surrender of the defendant when the costs of returning the defendant to the have been deducted from the remission and when the delay has not thwarted the prosecution of the defendant. [FS 903.28]
7. Bail Agent's Arrest Authority.
FS 903.20]. A surety may arrest a principal for surrender to official custody before a forfeiture [FS 903.22] or within 2 years of the forfeiture date [FS 903.29].
8. Other Noteworthy Provisions.
All insurers shall have a licensed and appointed managing general agent who shall supervise their bail bond agents [AR 4-221.003, FS 648.388].
Qualifications for prelicensing and continuing education classes and instructors [FS 648.386].
9. Bounty Hunter Provisions.
Florida does not allow bounty hunters.
Apprehension of bail fugitives is only allowed as set forth in FS 648.30(2)&(3):

No person shall represent himself or herself to be a bail enforcement agent, bounty hunter, or other similar title in [Florida].
No person, other than a certified law enforcement officer, shall be authorized to apprehend, detain, or arrest a principal on a bond, wherever issued, unless that person is qualified, licensed, and appointed as provided in this chapter or licensed as a bail bond agent by the state where the bond was written.
Violation of this is a 3rd class felony. [FS 648.30(4)].
Need immediate help with a bail bond?
Send a message below or call us now at (800) 938-2245.
Some popular cities where we serve Florida bail bonds are: Jacksonville, Kissimmee, Miami, Miami Beach, Orlando, Tampa